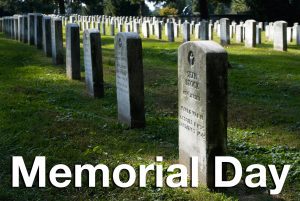 Start Memorial Day off by celebrating Mass with us at a special outdoor liturgy at 10:00 a.m. on Monday, May 29. The Mass will be held at the St. John Cemetery, on the corners of Richfield and Oak roads. Remember to bring your lawn chairs!
The Color Guard of Ardon F. Dubie Fourth Degree Knights of Columbus Council of Davison will form an honor guard. In case of inclement weather, the Mass will be held at St. John the Evangelist Church, 404 North Dayton Street, Davison, Michigan.
St. John Catholic Cemetery is the site of the original church and dates back to 1871. An open house will follow, highlighting cemetery development. Mausoleum and Chapel tours will be available. Light refreshments will be served.