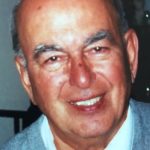 MANSOUR, Anthony James – formerly of Davison, age 93, passed away December 10, 2019. Cremation has taken place. A Memorial Mass will be held at 11:00 on the morning of Saturday, January 18, 2020 at St. John the Evangelist Catholic Church, 404 N. Dayton St., Davison, MI 48423, Rev. Fr. Andrew A. Czajkowski celebrating. Visitation will take place one hour prior to the Memorial Mass.
Anthony was born in Nazareth, Palestine on May 31, 1926, son of the late Najib and Nahail (Karram) Mansour. He came to the United States with his parents, brother Albert and sister Elizabeth in 1928. He was raised on the east side of Flint and graduated from Flint Central High School, Class of 1945. Working his way through Flint Junior College, Class of '47, at the family's grocery store, he then graduated from Detroit College of Law, Class of '50. Admitted to the bar, he found mentors in veteran Genesee County attorneys Donald Cameron and Joseph R. Joseph and opened a law office with DCL classmate, Norman Ernst. In 1965, Tony was elected to a ten-year term as judge of the Genesee County Circuit Court, following which he enjoyed many more years practicing law.
Tony married Muriel Margaret Ellis, originally of Lawrence, MA, at St. Mary's in Flint on June 21, 1952. Together they raised six children in Burton and built a successful law practice at offices on Beech Street in Flint. In 2012, after sixty years of marriage to Tony, Muriel passed away.
Throughout his life Tony was active in improving life for all in the Greater Flint Area. While at Flint Junior College he helped reactivate the Bruin Club and the Debate Team. He was active in the Young Lawyers Section of the State Bar of Michigan and later in the American Bar Association. While on the bench he was instrumental in modernizing the trial assignment system and the Public Defender Program. After retirement Tony stayed active in the legal community and his alma mater, participating in out-reach programs like DCL's Mock Trials.
With wife Muriel, Tony was for many years a communicant at Holy Rosary Catholic Church where he was an enthusiastic supporter of the school. He was a founding member of Our Lady of Lebanon Maronite Catholic Church and, after moving to Davison, attended St. John the Evangelist Catholic Church. He was active in Rotary Club of Flint (Paul Harris Award), International Institute (Golden Door Award), Flint Osteopathic Hospital, Knights of Columbus, Arab American Heritage Council, and other organizations that promoted community well-being, his heritage and assistance to immigrants and refugees.
In his spare time Tony was an avid sailor, sharing countless happy moments on the water with his friends in the Holloway Lake community. In his last years, first at Woodhaven and then at the Oaks at Woodfield, Tony enjoyed the thoughtfulness and affection shown him by care providers, as well as the friendship of fellow residents.
He is survived by his loving children and their families, Larry and his wife Diane, Norman, Christopher and his wife Carmel, Patricia, and Jeffrey and his wife Sibylle, his ten grandchildren and eight great-grandchildren, and dear brothers Jerry and George. He is preceded in death by his parents, James (Najib) and Nahail; wife, Muriel; son, Anthony Craig; daughter-in-law, Marcelene (wife of Norman Mansour); siblings Albert, Elizabeth (Delling), Esther (Nimer), and Georgette (Victor).
Donations in lieu of flowers can be made to the Arab American Heritage Council, Holloway Lake Association, or Rotary Club of Flint.