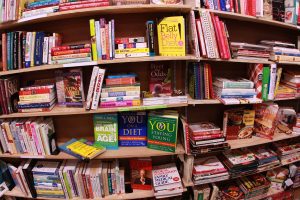 Calling all book lovers! The Andy's Attic Team is asking our parishioners to donate books only for the October Book Sale.
Donations
Where: On the table by the Yellow Barn entrance door located on the north-west side of the St. John Family Center, 505 N. Dayton, Davison.
When: During the month of September from 6:00 a.m. to 8:00 p.m.
Book Sale
Thursday & Friday October 15-16, 10:00 a.m. – 6:00 p.m.
Saturday, October 17, 10:00 a.m. – 4:00 p.m.
We will also have some bonus Halloween, Thanksgiving, and Christmas items for sale!
The Andy's Attic Team thanks you for your ongoing generosity and support. Together we can make this Book Sale a success! God Bless you and yours.