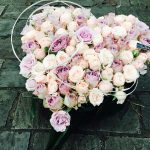 Jane was born on September 19, 1938 and passed away on Tuesday, December 4, 2018.
Jane was a resident of Davison, Michigan at the time of passing.
A Mass of Christian Burial will be celebrated 2 PM Saturday, December 8, 2018 at St. John the Evangelist Catholic Church, 404 North Dayton Street, Davison, MI 48423; Rev. Fr. Andrew A. Czajkowski celebrant. Burial immediately following the Mass in Evergreen Cemetery, Brown City, MI. Please share your thoughts with the family at www.allenfuneralhomeinc.com Read Less Express your condolences with flowers sent to Jane's memorial service Order from Local Florists View & Sign.
In lieu of flowers, memorial contributions may be made to St. John the Evangelist Catholic Church or a charity of one's choice.