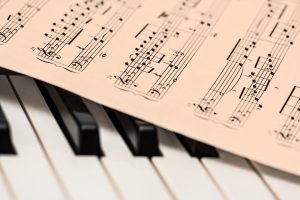 Have you ever thought about joining choir? Now's the perfect time! St. John choirs began a new season in September and there are options for all ages and abilities. Take a look at all our opportunities and schedules to find the fit that's perfect for you. All are welcome! Please contact Julie Richards at (810) 658-1135 to sign up.
St. John Resurrection Choir
-Availability for funeral liturgies (you do not have to be at every funeral)
-A kind and gentle spirit
-Willingness to take direction
St. John Kristal Bells (ages 5-9)
-Must know colors
-One rehearsal prior to a scheduled Liturgy (absolutely required)
-Register with the PREP office
St. John Celebration Brass Ensemble and Instrumentalists
-Do you play a musical instrument?
-St. John offers opportunities to enhance the Sunday Liturgy with various instruments
St. John Singing Angels Choir (grades 2 and beyond)
-Only requirement is a love of music!
-Rehearsals will begin on Tuesday, October 9th from 4:15 p.m.-5:15pm
-Commitment to rehearsals and performances is a must!
-Register through the PREP office
St. John Faith Ringers (adult and high school age)
-This choir rings on an average of once per month
-Rehearsals on Monday evenings from 6:00-7:00 p.m. beginning on Monday, September 10
-Must be available on holidays
-If enough people are willing, a new hand bell choir will be formed
St. John Celebration Choir (adult and high school age)
-Rehearsals on Wednesday evenings from 6:30 p.m.-8:30 p.m. beginning Wednesday, September 5
-Sings at the 10:00 a.m. liturgy on Sunday
St. John Schola Cantorum
-Small group of vocalists who have studied music in high school, college, and beyond
-Members of the high school Schola are cantors or are being trained to cantor
-There are limited openings for this choir that performs difficult music with few rehearsals
Cantor
-We are always in need of a cantor and will provide training
-Rehearsals begin on Monday, November 5th from 7:30-8:30 p.m.