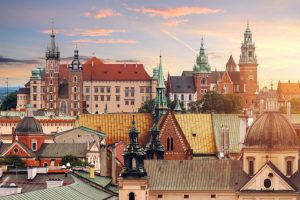 The Diocese of Lansing invites you on a pilgrimage to Poland to commemorate Pope St. John Paul II's 100thbirthday, May 13-22, 2020.
Join us for an informational presentation in the following parishes at 7PM
June 24, 2019 – St. Thomas the Apostle (Ann Arbor)
June 25, 2019 – St. Patrick (Brighton)
June 27, 2019 – St. Mary (Williamston)
July 16, 2019 – Queen of the Miraculous Medal (Jackson)
July 23, 2019 – St. Gerard (Lansing)
August 5, 2019 – Holy Family (Grand Blanc)
Father Mark Rutherford will be traveling as Chaplain on the Diocese of Lansing's sacred journey to awe-inspiring Poland on May 13-22, 2020. This will surely be a cultural and faith-filled experience as attendees traverse Poland's beautiful countryside, visiting historical locations and attending Mass at churches near and dear to Pope St. John Paul II.
Anyone interested in learning more about this opportunity is encouraged to attend one of the information presentations (see schedule above). They can also contact Corporate Travel Service at 886.468.1420 for more details or reservations.