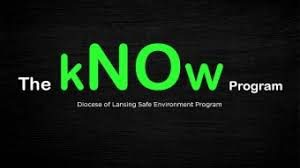 We are pleased to announce that, in partnership with the Diocese of Lansing, we are adopting a new program for the safety of our children. The kNOw program is designed to equip children, parents and guardians, schools and parishes with the tools to "kNOw" how to identify, counter, and report harmful behavior. This program relies on the fundamental truth that each child is created and loved by God and deserves to be safe and cared for. The kNOw Program has Four goals:
To help children and their parent kNOw how to identify and talk about safe, respectful situations
To help children kNOw how to identify and talk about behaviors and situations that are
not safe.
To help adult appropriately respond to children's concerns about being unsafe and/or
disrespected.
To inspire Christian communities to greater integrity and authenticity in creating
unfailing safe environments for children.
This program will be offered at St. John on the following dates during regular P.R.E.P./Edge sessions in the Family Center, small activity hall.
Sunday, January 12, 2020, 6:15 – 7:30 p.m. Grades 5 – 8
Tuesday, January 14, 2020, 5:30 – 6:45 p.m. Grades 5 – 8
Sunday, February 9, 2020, 9:45 – 11:00 a.m. Grades 1 – 4
Sunday, February 9, 2020, 6:15 – 7:30 p.m. Grades 1 – 4
Tuesday, February 11, 2020, 5:30 – 6:45 p.m. Grades 1 – 4
Please note that a parent must attend with their child. There will also be no Edge session on January 13th at Davison Middle School. If you have any questions, please call Jan Gravel at 810-658-4476 ext. 236