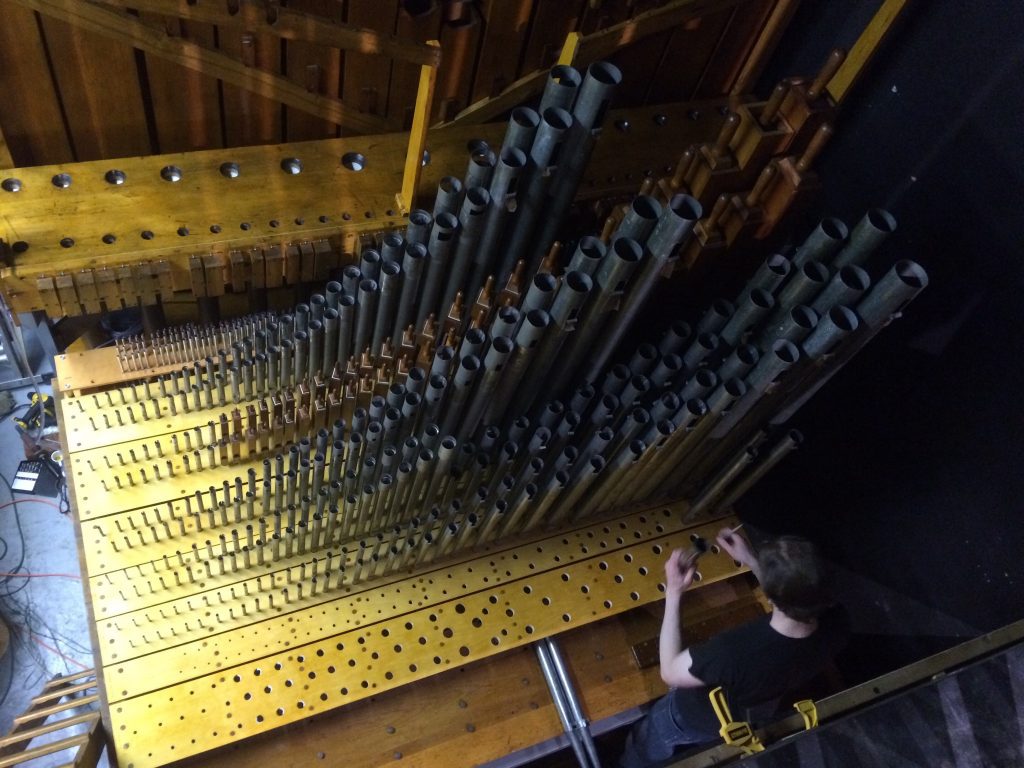 For the past nine months, the organ at St. John has been on a long journey. The instrument was in need of repair after many years of service. Repairing an organ, however, is no easy task. Many would have recommended scrapping the instrument and replacing it with something new. But we're not into the easy way out.
About 25 years ago our community moved this beautiful instrument all the way from St. Thomas the Apostle in Detroit as part of the church expansion. It took a tremendous amount of time, money, and dedication to get the organ here so it seems fitting that we put forth the same amount of care in its restoration. With the help of two fantastic companies, Renaissance Pipe Organ Company in Ann Arbor and Casavant Freres in Quebec, every bit of this massive instrument was painstakingly restored by hand. No detail was ignored, even scratches that occurred during installation have since been refinished, meaning that the instrument from which we will be sounding God's glory this Easter will be nothing short of flawless.
During the restoration process, we maintained the heritage of the instrument by saving as much of the original instrument as possible. But those original pieces have now been coupled with new digital technology that will allow the organist to play with even more pleasure. The console (what the organist actually plays the instrument from) will now be able to remember the settings for 50 different organists. It also has record and playback features so that while an organist is learning a piece they can hear what it sounds like anywhere in the sanctuary. It is also on a rolling platform so it can be played from anywhere in the sanctuary it needs to be for different services.
The organ is now finished and ready to play. And we couldn't have picked a better time. We will be celebrating Jesus' triumphant victory over death with a beautiful instrument that's in the final days of its own journey to resurrection. We invite you to join us in our celebration as we hear this beautiful new instrument played at Easter Vigil Mass at 8:15 p.m. on Holy Saturday and Easter Sunday Masses at 7:00 a.m., 10:00 a.m., and 12:00 Noon.
We have lots of photos of the restoration process! Check out our albums with the links below.
Field Trip to Renaissance Pipe Organ Company