Welcome!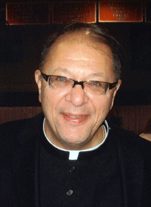 Welcome to our newly designed website for The Catholic Community of St. John the Evangelist of Davison and Blessed Sacrament of Burton. As we enter our 146th year of service, we humbly respond to God's call to be "the living stones of His building." At present, our membership at St. John is made up of 2,873 families and at Blessed Sacrament, 182 families, totaling 3,055 households or 7,899 persons from 62 zip codes. Browse our website and you will find an amazing array of services, programs, and events to respond to our baptismal calling to be Jesus' hands, feet, voice and heart in the world. On behalf of myself as well as our parish staff and associates, we are at your service.
Happy browsing!
Father Andrew
Parish News
Israel: Pilgrimage to the Holy Land

-

St. John the Evangelist presents Israel: Pilgrimage to the Holy Land. On February 28 - March 8, 2018 Fr. Andrew ...

Baby Bottle Drive

-

On January 21 and 22 we will be sending you home with Baby Bottles. Please take them home with you ...

Wellness Center New Year Special!

-

It's that time of year again! We're offering a special deal on annual memberships to the St. John Wellness Center ...