P.R.E.P. (Parish Religious Education Program)
Catechesis of the Good Shepherd (Ages 3-5 years including Kindergarten), and Elementary through 8th Grade sessions nurture the faith formation and religious education of our Parish children through formal sessions (approx. September–May) and Vacation Bible School (VBS) in the summer.
Hours of Operation
Monday – Friday, 9:00 a.m. – 5:00 p.m.
Address
505 N. Dayton Street
Davison, MI 48423
Contact Numbers
Voice mail messages can be left at the numbers listed below or e-mail can be sent as indicated
Phone: (810) 653-4056 (office)
Fax: (810) 652-0310
Voice Mail: (810) 658-4776 (+ext)
Jan Gravel
Director of Religious Education, PreK-8
(810) 652-0304 ext. 236
jgravel@stjohndavison.org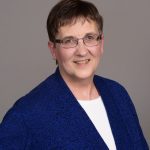 Sue Schroeder
Secretary
(810) 652-0304 ext. 237
sschroeder@stjohndavison.org
Current News
For Catechists