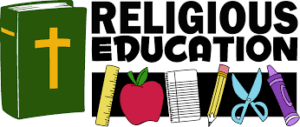 Welcome to another Religious Ed year! 
Class Schedule (same as last year):
Sunday Gr. 1-8, 6:00 – 7:15 p.m.
Sunday Gr. 9-12, 6:00 – 7:30 p.m. (including Confirmation)
Tuesday Gr. PK-6, 5:45 – 7:00 p.m.
2023-2024 Online Registration and Payment is now available!
Click the link below and enter all info. (All students in Family can be registered on same form.  Click "Add another student" after each student.  Fill in all information.)
Fill in Payment choice.  If Installments is chosen, click tab for Automatic Payments, choose date to pay, (minimum $10.00 due at registration).
Choose "help with Processing Fee" & SUBMIT.
You'll be directed to Sign-In with your account from last year (change your password if you don't remember).  OR if you are new this year, Create New Account. Fill in info and remember your password.
An email will be sent to verify success in registration and payment.
Online Registration Form
First Class Only: All parents and students meet in Church for a prayer service with Fr. Andrew, Commissioning of Catechists, short meeting, and Meet the teachers at 6:00 pm (after the 5:00 p.m. Mass) on Sunday, September 24th.   Actual in-classroom sessions begin Sunday, October 1st at 6:00 pm and Tuesday, October 3rd at 5:45 p.m. All sessions are held in the St. John Family Center.
If you have questions, please call Chris Maniaci at (810) 658-4776 ext. 236, Becky Beck at (810) 658-2875, or Sue Schroeder in the Rel. Ed. office at (810) 653-4056. See you soon!