Adult Faith Formation serves St. John Parish in many areas. Adult Faith Formation will be associated with the logo CAFE (Catholic Adult Faith Education).
The cup of warm coffee with the Holy Spirit in its midst is meant to suggest that adult education/faith formation is inviting and enriching, offers nourishment and community, and is engaging and adds meaning to life. CAFE offers opportunities for ongoing adult education/faith formation. Explore the length and depth of your Catholic faith and how it connects to the various aspects of your daily life.
CAFE Drop-In
CAFE' hosts a drop-in session the 3rd Wednesday of every month from September through June. The sessions are held in the back room of Little Caesar's in Davison. The room opens at 6:00 p.m. and the program doesn't begin until 6:30 p.m. so come early to order dinner and mingle! Scrip is available for purchase at the door. Everyone is welcome to attend. Please join us for faith and fellowship!
April Topic: Q&A with Fr John. Ever wonder what priests wear under their vestments? Who is the Lady of Guadalupe? Why are some priests allowed to be married? Fr. John will be in the hot seat answering all of your burning questions about the Catholic Church's teachings and practices. No questions are insignificant and no topics are off limits! Jot down your question to leave in the box located in the gathering space and come see if you can stump Fr. John, or make him blush!
Formed
Visit Formed today using our parish code: 77XNVP
FORMED Trailer Video from Formed on Vimeo.
Catholic CD's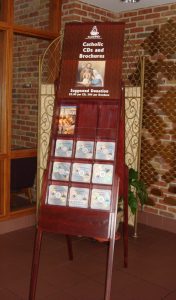 In today's job market, many of us find ourselves at the mercy of a 20 minute or more commute to work everyday. We tune in to the same ole' radio station to help make that drive a bit more manageable. Looking for a change from the daily grind? Then you'll be pleased to learn that our CAFE Team offers informed and enlightened listening alternatives that provide resources about our Catholic faith.
You may have seen our display of CD's in the Gathering Space in the Church or in the lobby of the Family Center. We will be rotating the topics periodically, so stop and take a look. You may find something of interest, something surprising or simply want to learn more about a specific topic.
In order to continue to provide this service, we ask a small donation of $3.00 per CD.
Currently available titles include:
Spirit of Sacrifice in the Family

A Walk Through the New Mass Translation

How to Bring Fallen-Away Catholics Back to the Church

Blessed Pier Giorgio, Man of the Beatitudes

Which Came First, The Bible or the Church?

Discovering the Biblical Significance of Mary

Glimpses Along the Way of the Cross

Seven Deadly Sins, Seven Lively Virtues

The Joy of Stewardship

There is Life in the Womb

The Passion of Christ
Classes and Workshops
The Transgender Question by Deacon Joe Campbell
What The Bible Teaches About Homosexuality by Deacon Joe Campbell