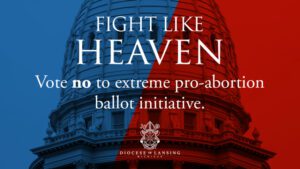 Bishop Boyea issued a pastoral letter to be read at all Sunday Masses across the Diocese of Lansing in which he warned of the extreme nature of the proposed Reproductive Freedom for All constitutional amendment which will appear on ballots in November's election as Proposal 3.
"I want to be clear," said Bishop Boyea, "The Reproductive Freedom for All initiative is the most extreme abortion proposal this country has ever witnessed."
Bishop Boyea noted that the Governor of the State of Michigan has said repeatedly that she, and her allies in the pro-abortion lobby, will, quote, "fight like hell" to prevail on the matter of abortion.
"How then do we respond to those who fight like hell?" asked Bishop Boyea, "Simple: We fight like heaven. What does that entail? First: We have to employ the three great spiritual weapons of the Christian life: Prayer, fasting and almsgiving."
"Second comes action," he added, "The most important frontline in this battle for life and love, however, will be the local parish. It will be you. If each of us does what we can – including prayer, sacrifice and action – we will overcome this attack on life. It's as dramatic and as simple as that."
"We have less than two months before voting on November 8th. Time is short. Our task is great. The Lord, however, always provides. Therefore, let us work cheerfully and unstintingly knowing that His grace is sufficient." You can read the entirety of Bishop Boyea's letter here.
Read the wording of Proposal 3 for yourself here.
Text "FightLikeHeaven" to 84576 and join the battle against the heinous Proposal 3! 
Materials to read on Proposal 3:
Special Edition of Faith Magazine.
Top 10 Tips for discussing Proposal 3.
The dangers within Proposal 3.
What can you do to stop Proposal 3 from passing?
Focus article on Proposal 3 from Michigan Catholic.
Videos to watch on Proposal 3: