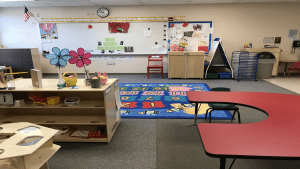 Hours of operation
September 15 – May 15:
Mon – Thurs: 4:30 p.m. – 8:30 p.m.
Sun: 9:30 a.m. – 1:30 p.m. & 4:30 p.m. – 7:30 p.m.
Location
Family Center in room 101b
505 N. Dayton Street
Davison, MI
Fees
Donations accepted.
Minimum Age
There is no minimum age for children, however, they must be crawling or new walkers.
Parents, would you like to take advantage of the many activities available at St. John, but find you're having difficulty arranging quality, dependable child care for your little one? Then why not let the friendly staff of Eagles' Nest Childcare take your child under their "wings" while providing you the opportunity to:
Assist at Religious Education Sessions
Work out in the Wellness Center
Escape with a good book at the Parish Library
Attend a Bible study
Stay fit and relieve stress by walking the indoor track
Use some of the newly found "free time" volunteering your services with any of the St. John ministries (don't forget the Eagles' Nest Childcare!)
The Eagles' Nest Childcare provides quality childcare services FREE OF CHARGE! Donations are asked to offset the cost of the service. Be confident in the knowledge that your child is safe and well cared for at the Eagles' Nest Childcare. Your child's safety and your peace of mind are ensured. When you sign your child in, you will be issued a pager. Should your child require your immediate attention, you will be notified via the pager.