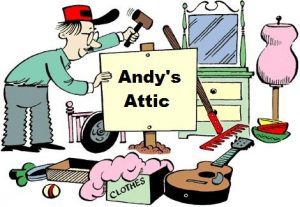 We need donations and volunteers for Andy's Attic – now rescheduled!
We want to welcome you to donate your items you no longer need. Please make sure your donations are clean, wearable, workable, and useable the same as if they were almost brand new. We are unable to sell old analog TV's, old computers, printers, entertainment centers, cabinet sewing machines, mattresses, and bed frames. We are especially in need of furniture and appliances!
Any donation can be dropped off at the yellow barn located on the north-west side of the St. John Family Center, 505 N. Dayton Street, Davison.
Donation dates are:
Monday – Friday, June 17 through July 10 from 9:00 a.m. – 3:00 p.m.
Saturday, July 11 from 9:00 a.n. – 3:00 p.m. (This is the last day of donations and donations will not be accepted during the sale)
Save the date for the sale!
Due to the Coronavirus we have to abide by certain requirements for the event. Please help us to do so!
FACE MASK REQUIRED
July 23, 24, 29, 30, 31, 9:00 a.m. – 6:00 p.m.
July 25 & August 1, 9:00 a.m. – 4:00 p.m.
Closed Sunday
Looking for Volunteers
Can you give us some of your time to help get the sale set-up or during the sale? If so it would be greatly appreciated. If you have any questions or want to volunteer, please contact Andy Coughlin at (810) 730-9892.
Hope to see you there and that you enjoy yourself and find some treasures. God bless!