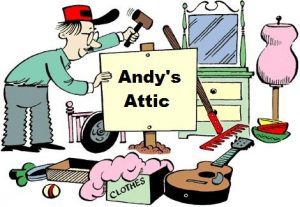 It's never too early to start planning! Andy's Attic is looking for donations and volunteers. We want to welcome you to donate your items you no longer need only if they are clean, wearable, workable, and useable. We are unable to sell analog TV's, old computers, printers, Entertainment Centers, and cabinet sewing machines. Any donation can be dropped off at the yellow barn located on the north-west side of the St. John Family Center, 505 N. Dayton Street, Davison, MI 48423.
Donation Dates, weather permitting
All 10:00 a.m. – 3:00 p.m.
Tuesday, February 4 – Thursday, February 6
Tuesday, February 11 – Thursday, February 13
Tuesday, February 18 – Thursday, February 20
Tuesday, February 25 and Thursday, February 27 (closed Ash Wednesday)
We are in dire need of helping hands. We have projects that you can do sitting down if standing and walking are a hardship. Get exercise, meet and make friends, learn something new and have fun. Any time you can donate will be greatly appreciated.
If you have any questions, please contact Andy Coughlin at (810) 730-9892.
Save the date for the sale!
Thursday, May 14 – Saturday, May 23, 2020 (closed Sunday)