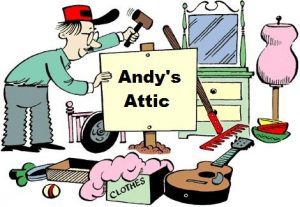 A new year, new dates for donations! The holidays are the perfect time to think about donations to Andy's Attic. If you received or purchased new items over the Christmas season, consider donating their older counterparts to Andy's Attic. Please remember that we cannot take items that are broken, missing parts, dirty, or outdated. We are unable to sell analog TV's or old computers and printers.
Donations
Tuesdays, Wednesdays, and Thursdays (weather permitting) at the yellow barn located on the north-west side of the St. John Family Center (505 N. Dayton Street, Davison MI 48423)
10:00 a.m. to 3:00 p.m.
March 5, 6, 7
March 12, 13, 14
March 19, 20, 21
March 26, 27, 28
Volunteers
We are still in need of helping hands! Any time you can donate will be greatly appreciated. If you would be available to do pickups with the church truck and trailer or have any questions, please contact Andy Coughlin at (810) 730-9892.
Save the Date for the Sale
Thursday, May 16 – Saturday, May 25 (closed Sunday)