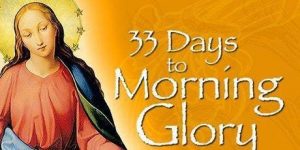 33 Days to Morning Glory is a do-it-yourself retreat in preparation for Marian consecration, written by Fr. Michael Gaitley.
What is Marian consecration? When we give ourselves to Mary to be formed into the image of her Son, Jesus.
When Does it Start: This at-home retreat would start on Wednesday, April 10.
When Does it End: On Monday, May 13, which is the anniversary of the first apparition of Mary to the children in Fatima, Portugal, participants can attend confession, mass and be consecrated (prayer and blessing).
Additional Information:
Fr. John, who has gone through and supports this devotion, and is offering the book for those who would like to sign up to participate.  There is a reading and meditation every day for 33 days.
Anyone interested in participating in this wonderful devotion can contact Maria Pavelich at (810) 730-0703.  There will also be books and a sign-up sheet in the gathering space at church.
"This devotion was a decisive turning point in my life." -St. John Paul II