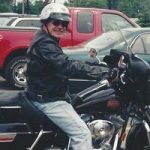 Timothy Alan "Tim" Goodall of Davison age 67, died Sunday, January 5, 2020 at his residence. A funeral service will be held at 3:00 p.m. Thursday, January 9, 2020 at Hansen Funeral Home Groves Chapel, Downtown Davison, Fr. Andrew A. Czajkowski officiating. Burial will follow at Richfield Union Cemetery. Family will receive visitors from 3 – 7 p. m. Wednesday at the funeral home. Contributions are being made in Tim's memory to the charity of choice.
Tim was born in Flint, Michigan on July 15, 1952 the son of William & Donna (Conaway) Goodall and has resided in the Davison area most of his life. He was joined in marriage to Marguerite King on September 14, 2002. Answering the call of his country Tim served in the U. S. Army during the Vietnam War. He was a member of the Davison FOE #3589 and was a graduate of Beecher High School Class of 1970. He had been employed by General Motors Fisher Body and Grand Blanc Tank Divisions for over thirty years until his retirement.
Surviving is wife Marguerite, his children; Nick Goodall, Beau Goodall, and Tiffany Goodall. He also leaves his father, William, and wife, Sandra Goodall; step-children, Stephanie Simmonds and Tim Hacker; seven grandchildren; and four great-grandchildren. Also surviving are sisters Cyndi Tuttle and Sandy Gregory. He is preceded in death by his mother, Donna Goodall, and step-son, Alan Hacker.