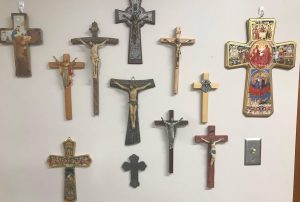 "The Most Holy Gift Shop" is located off the Gathering Space in St. John Catholic Church
New Books Have Arrived!! Our Early Christmas Sale begins Saturday, November 4th-Sunday, December 24th. Each Saturday from 3:45 p.m.-5:45 p.m. and each Sun. 9:30 a.m.-1:30 p.m. Come see all new great Advent and Christmas gifts available for friends and family!!
Hours:
Saturday: 4:00 p.m. – 6:00p.m.
Sunday: 9:30 a.m. – 1:30 p.m.
For more information call:  Sandy at (810) 240-7451 or Larry at (810) 252-7928