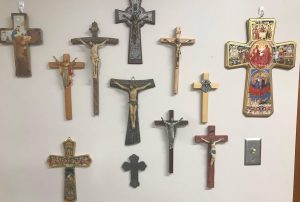 "The Most Holy Gift Shop" is located off the Gathering Space in St. John Catholic Church
Please visit us soon and make us your first stop for beautiful gifts and accessories that proudly reflect and celebrate our Catholic heritage and traditions.
Great new books by famous Catholic authors have been added.  There are also children's books.
Come and see all that is new and check out the many gift items. Gift certificates are available. Check out our BOGO table (equal price or less). Cash or Check only, No debit or credit cards.
Hours:
Saturday: 4:00 p.m. – 6:00p.m.
Sunday: 9:30 a.m. – 1:30 p.m.
For more information call:  Sandy at (810) 240-7451 or Larry at (810) 252-7928